State v. Schwartzenberger
Mr. Schwartzenberger, an elected Sheriff, was charged with Misapplication of Entrusted Funds, a Class A Misdemeanor (McKenzie County 2015). Case dismissed.
Judge drops case against McKenzie County sheriff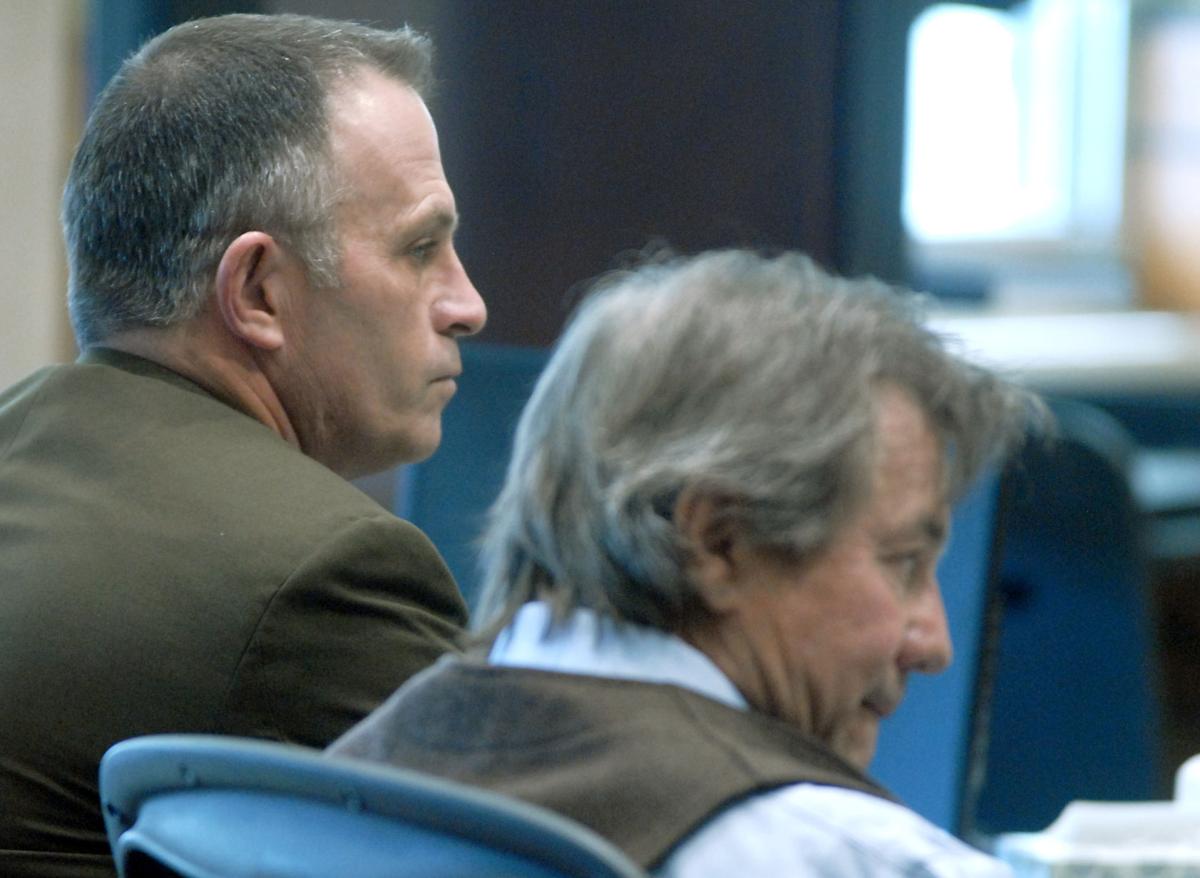 McKenzie County Sheriff Gary Schwartzenberger, left, sits next to his attorney, Tom Dickson, at the Burleigh County Courthouse in Bismarck in March during a discovery hearing for his charge of misuse of county government funds.
---
McKenzie County Sheriff Gary Schwartzenberger has a clear court record, just in time for re-election.

On Monday, South Central District Judge Sonna Anderson dismissed his two-year-old misdemeanor charge of misapplication of entrusted property, related to nearly $1,000 in expenses on a county credit card in March 2015 at a Las Vegas sheriffs' convention.
"It is time to put this issue to rest," Anderson wrote.
Schwartzenberger was charged in November 2015 and fought the criminal case for almost his entire first term in office. The dismissal comes five months after Gov. Doug Burgum reinstated the embattled sheriff following a delayed removal proceeding, as well as an appeal Schwartzenberger won over the county commission related to authority over his employees.
Schwartzenberger did not return multiple phone calls and an email Tuesday seeking comment. A woman who answered the phone for the McKenzie County Sheriff's Office administration said he was attending a county commission meeting.

"The state failed to meet its burden to prove the elements of the offense," Anderson wrote.

McKenzie County had no credit card policy at the time of Schwartzenberger's disputed expenditures, according to court documents. McKenzie County meeting minutes indicate that commissioners did approve a credit card policy in August 2015.

Defense attorney Tom Dickson, speaking by phone from Rugby, said the case has been "a long, tough fight."
"We have litigated this thing 'til the cows came home, literally," he said. "We won. It never was a case. Our position was pretty clear."

The North Dakota Bureau of Criminal Investigation probed the matter before Schwartzenberger was charged. McKenzie County Commission minutes indicate the sheriff, commissioners and then-auditor/treasurer wrangled over his use of the county credit card in 2015, even disputing his purchase of bulk candy for parades a year later.
Dickson said he represented Schwartzenberger pro bono in this case, which had been set for trial in a month.
"I don't like bullies, and that's exactly what this case was," he said, referring to perceived attacks from the Attorney General's Office, which prosecuted the sheriff.

Since Schwartzenberger returned in early August, eight deputies have resigned from the McKenzie County Sheriff's Office, most of them leaving for other agencies. At least two former deputies have filed labor grievances.
Late last year, Schwartzenberger indicated his intent to run for a second term.